Nikki Fairbairn
and
Lacey Stephens
have joined forces from across the Atlantic Ocean to create their own Stamp Company called Wags 'n Whiskers Rubber Stamps!!

Looks like they are going to be some fun stamps to work with.

Would you like to win a complete set of their first release?! Click below.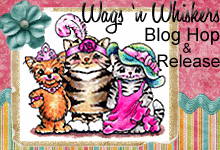 Thanks for stopping by.