Hi everybody
A busy day for met - I am off to the Art Stamp show at Newbury Racecourse, and also attending a workshop by that lovely lady from Clarity Stamps, Barbara Gray.
At the
One Stop Craft Challenge
, we have a new challenge today, the theme of which is Summer Flowers, and we want to see a flowers as the main image rather than additions in the way of embellishments.
This is one of the new images from
Fred She Said
, which come in both ordinary digi images and pre-coloured versions. For this card I have used background papers from a First Edition pad. The dragon fly and leaves are Cheery Lynn dies, and flowers from stash.
We are sponsored this week by
Fred She Said
, and were given the opportunity to choose the images we wanted to use. Tracey (aka Fred) has some fabulous images, and I am particularly fond of the floral ones.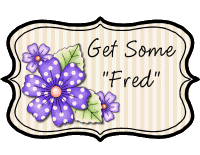 The prize is a $15 gift voucher to spend in store.
I am entering this into the following challenges:
Chocolate, Coffee and cards -
Anything goes
Cute Card Thursday -
Garden Inspired
- I would love bearded iris like this in my garden - however, the rain probably would have mashed them up by now!
Tuesday Throwdown -
Summertime
Papertake Weekly -
Anything Goes
The Paper Shelter -
Flower Power
Willow Sketchie - Sketch and floral - I followed the sketch
I really appreciate it that you take the time to look at my blog and leave such lovely comments. Thank you each and every one of you. Hugs,